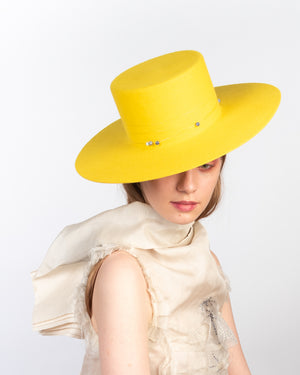 I am not afraid of winter
Your Canotier is being made in our small traditional studio, sur mesure, so the hat is compatible with the owner, so that it will fit like a "glove". We kindly ask you to select your hat size - this is the circumference of your head above the eyebrows, roughly one centimeter above your ears, measured with a tapeline.

Your hat is made entirely by hand, starting with the weaving of the feltup until the fixing on the block. Because each hat is made to a specific measurement, we kindly ask you to give us an interval of 7 to 10 days to create our product. We would like to thank you in advance for your patience.