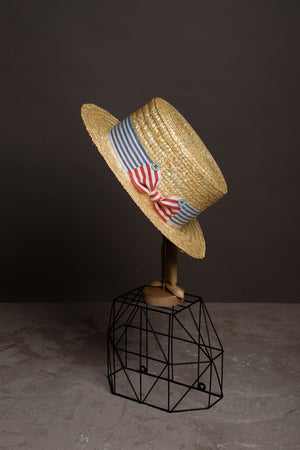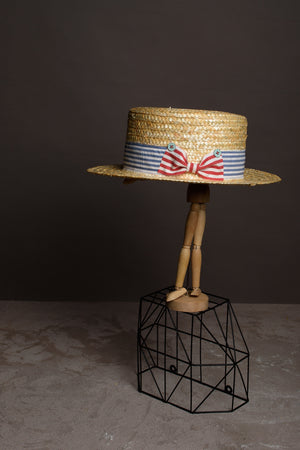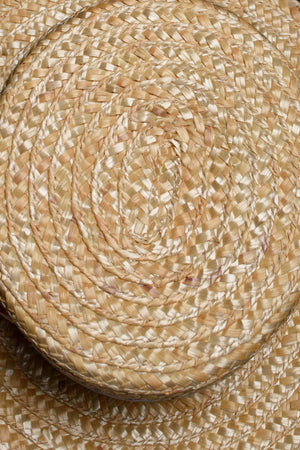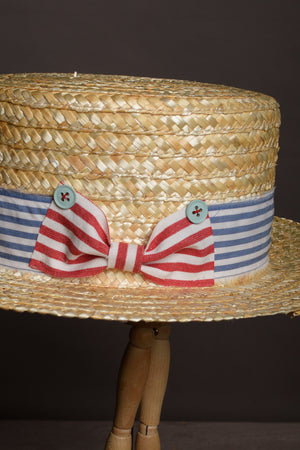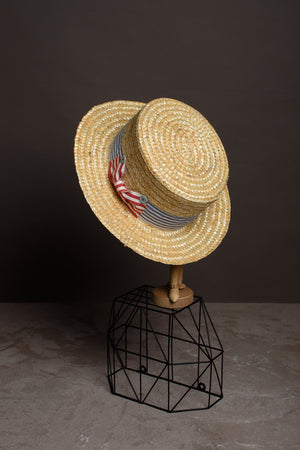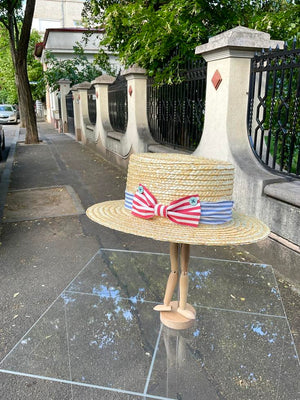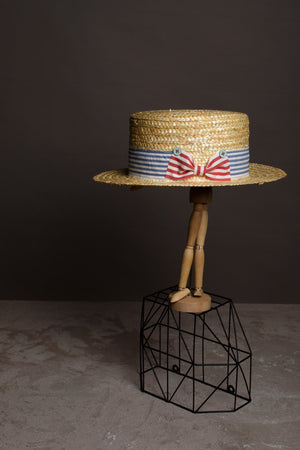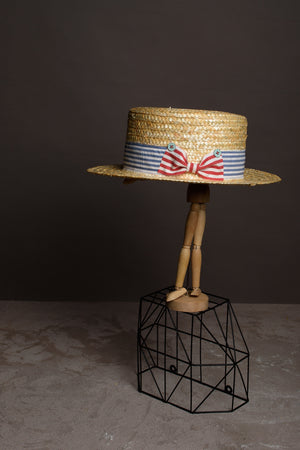 Canotiera de flaneur - editie speciala
Summer detox. A dose of loosened attires + organic rye turned to straw + lots of colour = Flâneur's Canotier. It is a hat which one wears on their bike while they circle the town in ribbons; or by the seaside, during drowsy afternoons, spent with a book in hand; or atop a cathedral's spire in a newly discovered city. Vernacular rye, rips ribbons or coloured cotton tassels. I invite you to chose your desired colour combination like you would chose your favourite ice cream. Only the price is set on losing weight . :).
Your Canotier is being made in our small traditional studio, sur mesure, so the hat is compatible with the owner, so that it will fit like a "glove". We kindly ask you to select your hat size - this is the circumference of your head above the eyebrows, roughly one centimeter above your ears, measured with a tapeline.

Your hat is made entirely by hand, starting with the weaving of the straw up until the fixing on the block. Because each hat is made to a specific measurement, we kindly ask you to give us an interval of 5 to 7 days to create our product. We would like to thank you in advance for your patience.
Detox de vara. O doza de relaxare vestimentara+ secara bio sub forma de pai+ culoare multa= canotiera de flaneur cu panglica amuzanta si relaxata, in culori de mariner, cu nasturi cusuti de creativitatea unui  designer si el cu gandul la mare.
Asadar, aceasta este palarie care rimeaza cu o cea mai frumoasa vara- 2022.
Paiul este impletit manual in Transilvania, intr-un sat unde fiecare stie sa impleteasca o cosita de secara stand seara in fata portii. Palariile sunt cumintite in forme, pe marimi, trase pe calapoade de lemn de tei in studioul din Bucuresti. Toate operatiunile ce cresc palaria dvs catre o mica sculptura in pai se fac cu mana omului si cu gandul la vacantele dumneavoastra.:)
Canotiera dvs. se produce in micul atelier, in mod artizanal,  sur mesure,  asa incat sa existe o compatibilitate cu propritara/ul, sa i se potriveasca" manusa" :).  Asadar va rugam sa selectati masura dvs. la palarie- circumferinta capului deasupra sprancenelor , la  aproximativ un cm deasupra urechilor,  de jur imprejur.
Dimensiuni: Calota palariei are inaltime de 9-10 cm, borul este de 6-7 cm. Latimea bentitei de pai variaza in functie de latimea paiului impletit. Acesta creste diferit in zone diferite, pe parcele diferite sau in conditii de umiditate diferite. Pot aparea astfel si diferente de culoare, nuante variate. Diferentele  de tot felul certifica faptul ca acest produs este unul realizat din materiale manuale, in conditii de manufactura al carui farmec este atat de cautat.

Pentru ca palaria dvs este un produs realizat aproape integral de mana omului indragostit de detalii , incepand cu impletirea paielor, tragerea pe calapod si pentru ca fiecare palarie se face pe masura, va rugam sa ne ingaduiti un interval de 5-7 zile pentru realizarea acestui produs, multumimdu-va in avans pentru rabdare si complicitate.