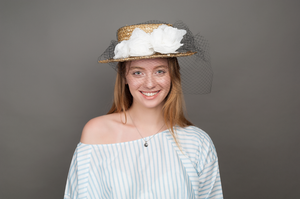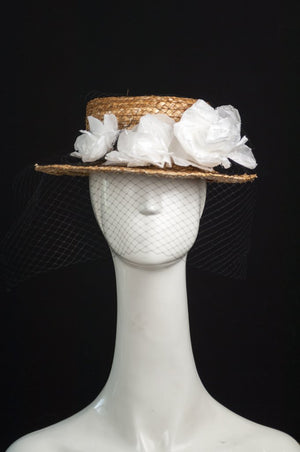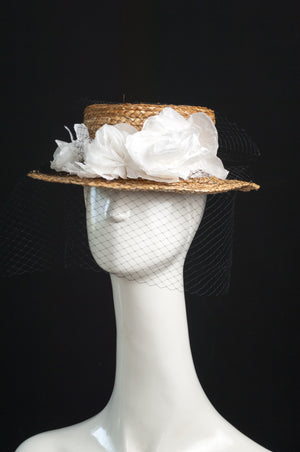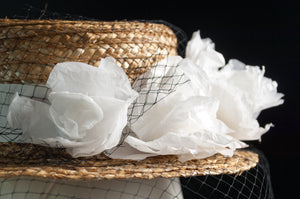 Les roses blanches
Uneori nu stii ce sa faci cu scrisorile de dragoste ofilite prin sertare. Sunt iubiri mai vechi, unele uitate, unele cu gust amarui, altele care-acum-te fac sa razi. Dar scrisorile de dragoste ramase in urma sunt nevinovate, sunt o mostenire induiosatoare care ar putea salva umanitatea de la cele mai aspre priviri si de la cele mai necrutatoare verdicte de miselie. Scrisorile de dragoste odata devenite nevinovate se pot decupa in niste petale de roze  si pune pe palarie. Aceasta e parerea mea, optiunea mea.
Daca nu ai primit inca, poti folosi cea mai usoara hartie de matase, plutind pe palarie intr-un buchet care nu a coborat inca in mana.
Asadar canotiera Les roses blanches e un loc de expus scrisori de dragoste, lucrata din pai de secara, cu boruri frumoase si drepte , pe masura doamnei care o va adopta. Masura dvs e foarte importanta pentru potrivire. Va rugam sa ne transmiteti circumferinta capului in mesajul pe care puteti sa il transmiteti dupa ce apasati pe butonul de cumparare. Circumferinta capului se masoara cu un centimetru de croitorie, de jur imprejurul capului, deasupra sprancenelor si a urechilor la aprox doua degete subtiri, de pianista, acolo unde palaria atinge capul. Imaginati-va o coroana pusa pe cap, acolo unde purtati palaria, nu mai sus, nici mai jos, caci fiecare centimetru conteaza. Daca nu aveti un centimetru de croitorie puteti folosi o panglica sau o sfoara confruntate apoi cu o rigla.
Puteti comanda si scrisorile de dragoste, tot la noi. Nu e nevoie de centimetru , vom folosi dragoste nemasurata.

Pentru ca palaria dvs este un produs realizat aproape integral de mana omului indragostit de detalii , incepand cu impletirea paielor, tragerea pe calapod si cresterea :) trandafirilor petala cu petala si pentru ca fiecare palarie se face pe masura, va rugam sa ne ingaduiti un interval de 5-7 zile pentru realizarea acestui produs, multumimdu-va in avans pentru rabdare si complicitate.

Sometimes one doesn't know what to do with the wrinkled love letters left in a drawer. These are older affairs, some forgotten, some still marked by a bitter aftertaste, some still making you laugh. But left behind love letters carry no guilt, being heartwarming memories that can save one's humanity from the harshest of looks and the cruelest verdicts of outrage. These letters can be carved into rose pettals and placed on a hat. This is my opinion and my option.
If no letters are left around, the lightest of silk paper can be used, gliding onto the hat with a bouquet still held in hand.
The Les roses blanches canotiere is perfect for displaying love letters, its straight and stunning boron being strengthened by the sturdy rye straws, made to fit the lady who will adopt the hat. Please keep in mind that selecting the right size is very important. You can select the size from the box found under the title. You can easily find out your size by measuring your head's circumference with a tapeline placed roughly one finger above the eyebrows and ears.
You can also order the love letters from us. There is no need for measurement this time, we will use immensurable love.
Your hat is made entirely by hand, starting with the weaving of the straw up until the fixing on the block. Because each hat is made to a specific measurement, we kindly ask you to give us an interval of 5 to 7 days, so we could create our product. We would like to thank you in advance for your patience.