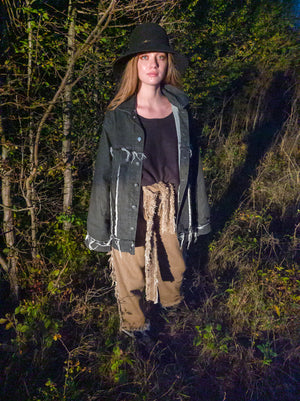 Jules et Jim
O palarie frantuzeasca pentru rotunduri  si nu triunghiuri care omagiaza toate frumusetile ecranului din filmele lui Francois Truffaut.
100%lana
Lucram palariile sur demande et sur mesure. Ceea ce inseamna ca avem nevoie sa stim circumferinta frumosul dvs cap. Aceasta este o masura exacta- ca la pantofi - si de poate determina cu o oglinda in fata si un centimetru asezat in jurul capului. Nu ar stica un ajutor dar nu e neaparat necesar.
Se masoara circumferinta de jur imprejurul capului cu centimetrul amplasat deasupra urechilor si a sprancenelor la aceeasi distanta: un deget latime. Aveti grija mare ca, la spate, centimetrul sa fie asezat pe proeminenta capului in punctul ei maxim. Exista filme pe youtube instructive. Multumim pentru efort.
A French hat designed for round heads rather than (love) triangles, which celebrates all the cinematographic beauties from Francois Truffaut's movies.
100% wool.
We craft our hats sur demande et sur mesure, which means that we need to know your head's size. This is a precise size, similar to your shoe size. For a correct measurement, please use a seam tape on the forehead in front of the mirror. A bit of help from a friend might come in handy, but it's not necessary. Measure your head all around above the ears and eyebrows while keeping the same distance: the width of a finger. Make sure that the back of the skull is inside the circle formed by the seam tape. You can also find YouTube videos with instructions. Thank you for your effort.